THE CHEAPEST SOCIAL MEDIA PANEL IN AFRICA
Best SMM panel for resellers and individuals. We deliver the best services at the cheapest prices
Are you looking to grow your social media presence and gain more followers? Look no further than our website! We offer a variety of social media services at incredibly affordable prices, including 1000 followers for just 275 Naira. On the Kclaut website, you can easily and quickly boost your social media following and increase your online visibility. We offer a range of services for different social media platforms, so you can choose the ones that are most relevant to your needs.
.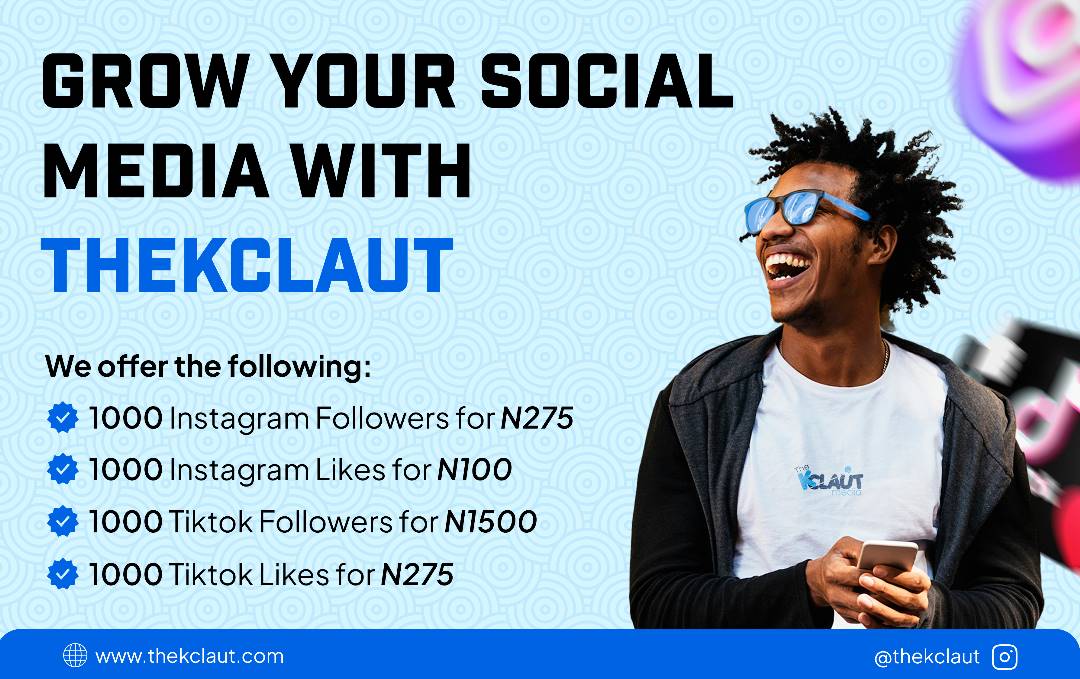 Our prices are some of the lowest on the market, but that doesn't mean we compromise on quality. We use only the most reliable and effective methods to deliver high-quality results to our clients.
Whether you're an individual looking to grow your personal brand or a business looking to increase your social media presence, our SMM panel has the services you need to succeed. So why wait? Start growing your social media following today with our affordable and effective social media services.
Want to start placing orders on our website? Follow these 4 easy steps.
The quality of our SMM services will pleasantly surprise you.
Great variety of payment methods for you to choose from.
SMM services that we offer on our panel are extremely cheap.
Customer orders on our panel are processed very fast.
Begin with signing up and then log in to your account.
The next step is to choose a payment method and add funds.
Pick the SMM services you want and easily place your orders.
You will be informed once your order is complete, it won't take long.
Success stories
Learn how you can benefit from using our panel by checking out some of the customer reviews.
One of the things I do for work is building engagement on Youtube and Instagram accounts for different clients. Services that I order on this panel help me save a lot of money and still do the great job my clients expect me to do. Highly recommend!
To be honest, I didn't even expect that the results of ordering SMM services on this panel would be so good, I'm very impressed! Definitely ordering more soon.
I'm so happy I found this SMM panel! I spent hours and hours on trying to get more people to know about my brand but it was so difficult. This panel helps me get more attention online and increase my customer base.
Keep up the great work, guys! If you aren't sure where to order SMM services to promote your business, go with this SMM panel — you won't regret it.
What is the purpose of The kclaut website?
This website is an online store where people are able to purchase social media marketing services
What social media service can I purchase on this website?
We have many types of services, such as followers, likes, views, subscribers comments, watchtime and many more.
Is it safe to order SMM services on your website?
We follow all terms and conditions of all social media platfroms. This secures your account from any form of violation of social media platform rules. Your account is safe!